Fleet Management
Essential tools for robot admins.
Security, Scheduling, and Reporting.
---
SSO and User Access Control
Remotely manage access to each robot on a per-user basis. You can easily onboard new users with Single Sign-On (SSO) integration via SAML2 (Ping, Okta, Azure Active Directory, etc.) and Google Workspace (G Suite) SSO. Revoke access when an employee is terminated or changes positions. This will reduce your IT help desk costs, eliminate shared passwords, and ensure compliance with your company's security policies.
Easily invite external collaborators by creating time-expiring Visitor Passes through the Fleet Management web dashboard.
---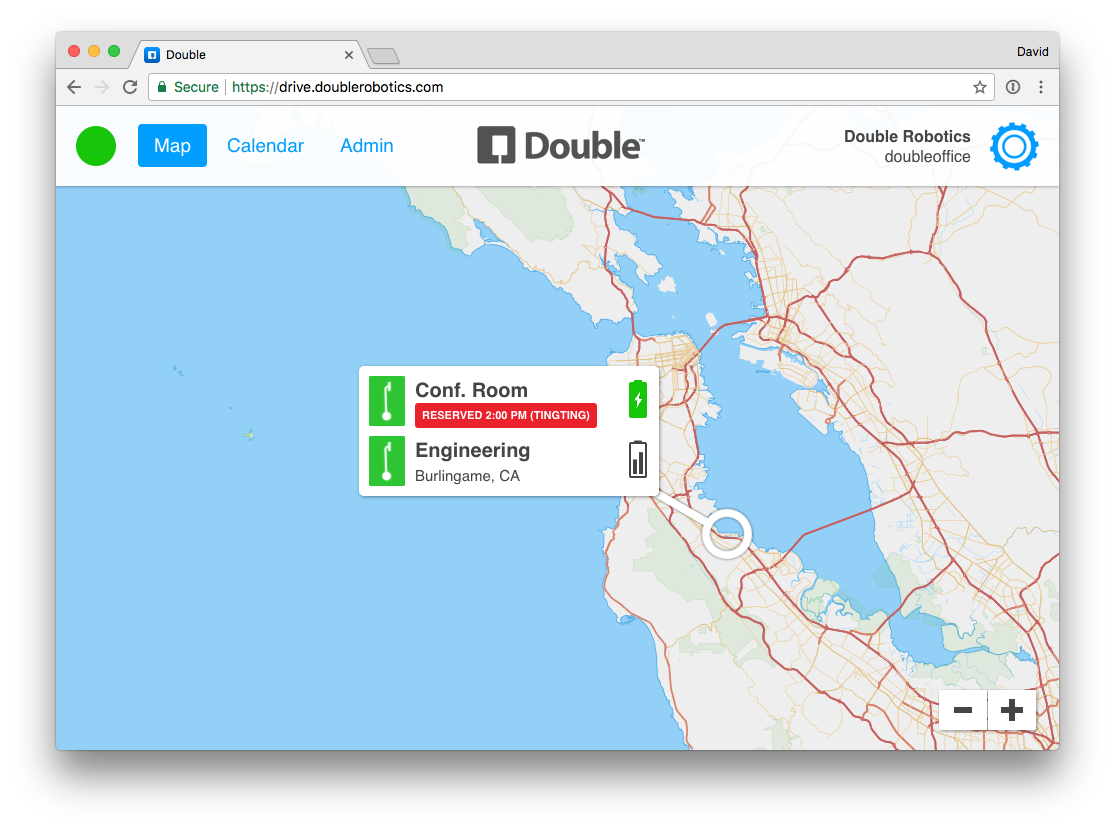 Robot Reservations
Now you can share your robots with people throughout your organization from a central dashboard on the web. The Calendar tool enables you and your team to reserve a robot, just like you would reserve a conference room. Everyone on your team has access to reserve the robots that they have access to. See both user-based reservations and Visitor Passes on the same calendar. All users will see a warning on their map that the robot is reserved.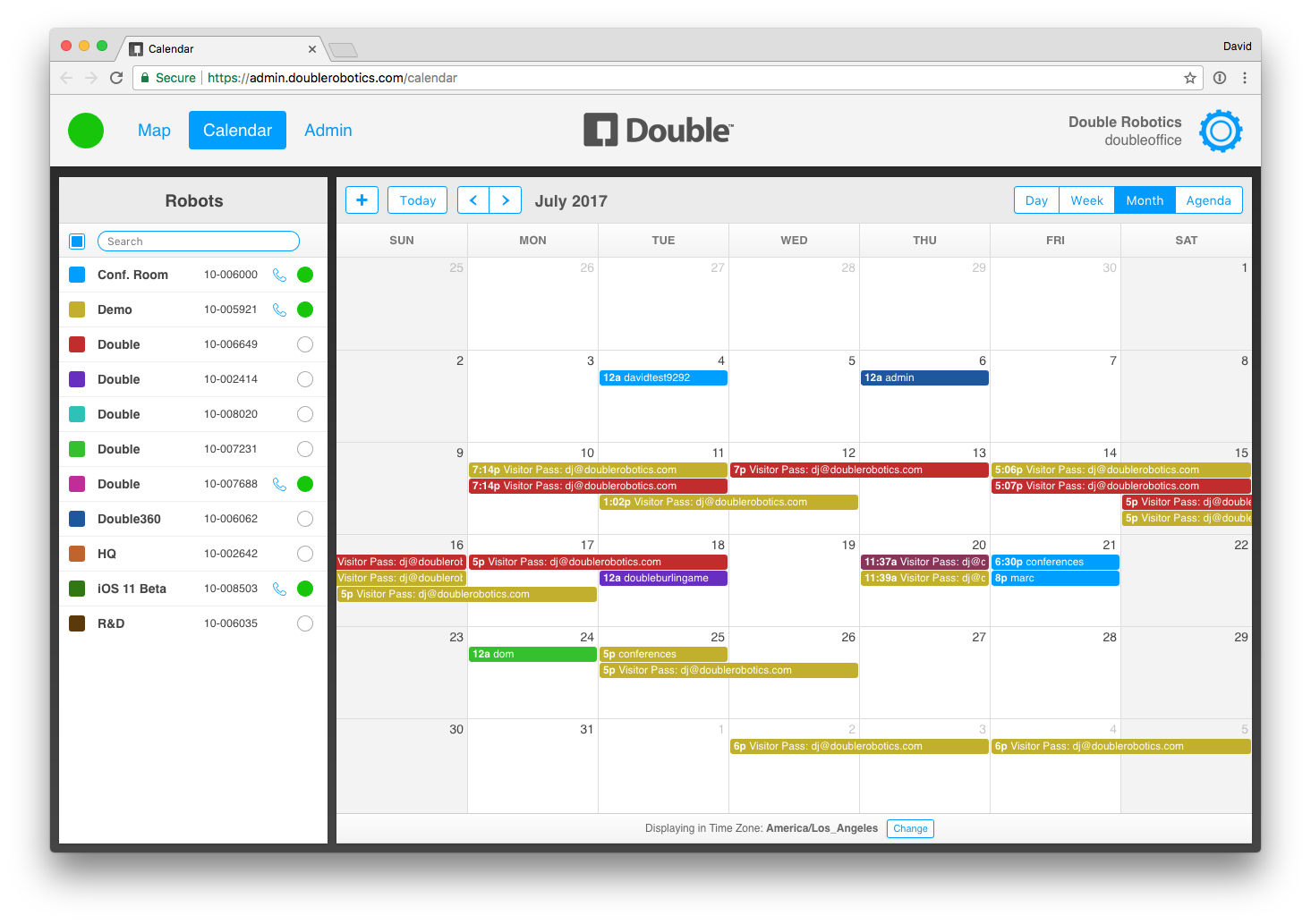 ---
Call Logs
Ensure that audit and compliance requirements are met with the use of the Call Logs feature. Easily filter call logs by robot and driver and download logs in CSV format for further analysis. Admins can track call time, length, driver, robot, and more. Only meta data and call quality data are recorded, since video and audio are end-to-end encrypted.
Call Quality Reports
IT teams and network admins can improve call quality by analyzing detailed logs, identify poor access point hopping, determine which end of the call is causing the trouble, and more. Quality data is recorded every 10 seconds throughout the call and is available immediately for analysis.
---
FAQ
Does Fleet Management support multiple time zones?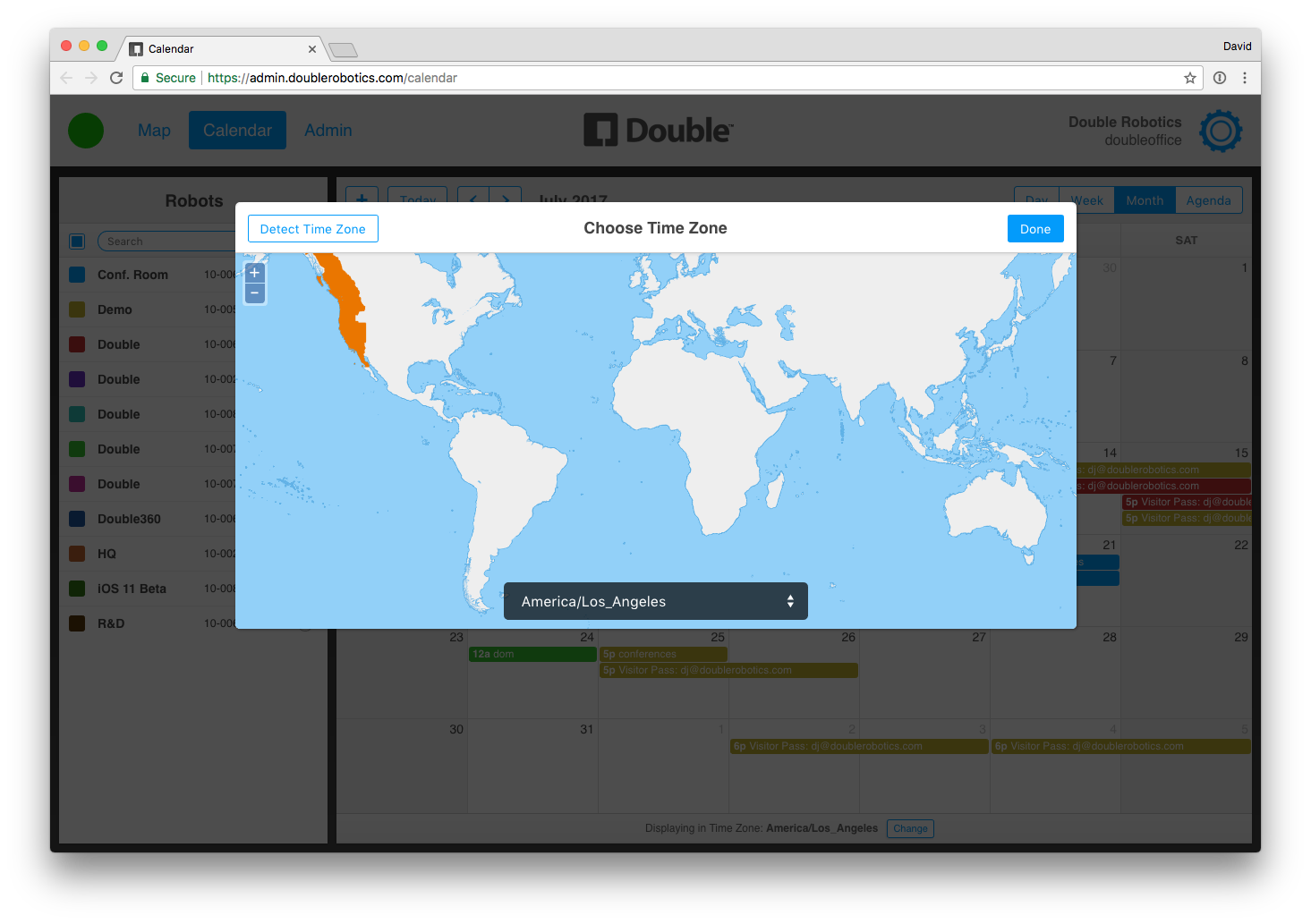 Yes, there is easy access to view data in different time zones, including support for daylight savings.
Are volume licenses available?
Yes, please contact us: sales@doublerobotics.com
What SSO implementations are supported?
Fleet Management supports SAML2 (Ping, Okta, Azure Active Directory, etc.) and G Suite SSO.
How will I be billed for Fleet Management?
You can use a credit card for month to month subscriptions. For annual subscriptions, a credit card or purchase order can be used.
How long can I prepay for Fleet Management?
You can prepay for Fleet Management for up to three years.
Features
Basic

Free

Professional

$

79.20

/month/robot

Paid Yearly

One-to-one Calls
✓
✓
Screensharing
✓
✓
Multi-Viewer Calls
✓
✓
Visitor Pass
✓
✓
Unlimited Users
✓
Robot Management
✓
User Access Management
✓
SAML2 Single Sign-On
(Ping, Okta, Azure AD, etc.)
✓
Google G Suite Single Sign-On
✓
Calendar: Scheduled Access
✓
Remotely Create Visitor Pass
✓
Call Logs
✓
Call Quality Reports
✓
Magic Email Domain
✓
Multiple Admins
✓
Branded Subdomain
✓
Branded Driver User Interface
✓
Branded Double 3 Wallpaper
✓
Fleet REST API
✓
---
---