Standard Warranty
This product is covered by a limited warranty from Double Robotics Inc. for the original purchaser that covers the product from defects in workmanship and materials for ONE YEAR from the date of receipt. Damages through normal wear and tear, alteration, misuse, neglect, accident, service by anyone other than the authorized center, or act of God are not included.
For approved warranty repairs of robots purchase directly from Double Robotics (not through a reseller), shipping charges are covered from and to the original shipping location, as long as it is in the following list:
Austria
Belgium
Bulgaria
Canada
Croatia
Denmark
Estonia
Finland
France
Germany
Hungary
Ireland
Italy
Japan
Lithuania
Netherlands
Poland
Slovakia
Spain
Sweden
Switzerland
United Kingdom
United States
For all other Doubles, the warranty will not cover shipping costs. Should you still wish to have your Double serviced, you may either provide a US address or cover the shipping, tax and import duty costs both ways to either Double Robotics or an authorized Double repair center. Additionally, the customer assumes all risk of damage/use during shipping and customs. Service in such circumstances will be handled at the discretion of Double Robotics.
For customers in countries other than the US, the unit may be serviced locally by an authorized Double repair center, but this must be coordinated with Double's central support team.
Please note that Double is not intended for outdoor and/or all weather use. Any such use will void the warranty.
During the warranty period and upon verification of defects, this product may be eligible for repair when Double Support has been contacted.
Warranty coverage extends to the official accessories that are used with each Double.
Contact Double Support by email at support@doublerobotics.com.
---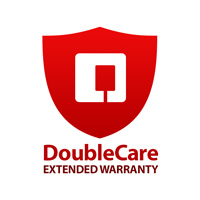 DoubleCare Extended Warranty
The DoubleCare Extended Warranty provides the same great service as the Standard Warranty, but instead of one year, you get a total of three (3) years of warranty service.
DoubleCare Extended Warranty is $599 and must be purchased before your Standard Warranty expires (within 1 year of the original purchase).
Buy Now